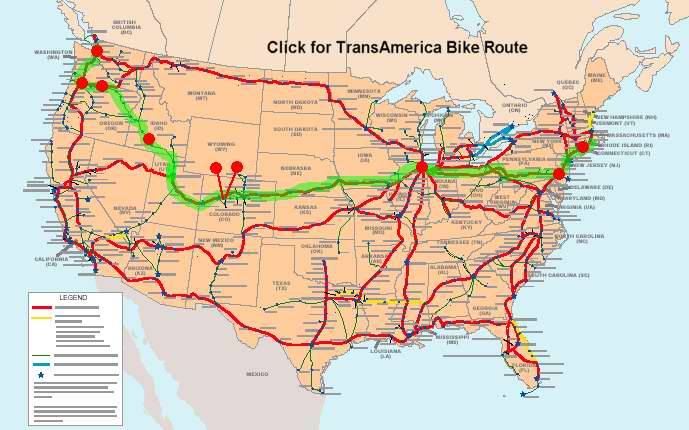 Amtrak Route across the United States
This is the route I used to go from Providence, Rhode Island to Seattle, Washington. The trip took 3 ½ days.by train.
While the traditional feeling crossing the United States, especially for East coast people, is to "travel west " as the pioneers did, I decided to bike from the West to the East. Several reasons prompted this. One was to avoid the head winds from the west. As a guess I would say the winds were 60/40 in my favor. Another was to avoid sun glare in the evening and especially not to have it affect car and truck traffic approaching from my rear. Better to have the glare in the cooler morning than in the hot late afternoon. I felt a lot safer.
Secondly, it was more convienent to start the bicycling portion of the trip at the far end, because with an open ended trip it is more convienent to make reservations and get to the Station in your home town than at some distant unfamiliar town. Especially true your only transportation is your bike in a large metropolitan area. Most train stations are downtown and lodging is difficult and expensive. And consider, where do you put your bike and touring gear in any hotel. You can't even leave your bike and gear in the street to go into the hotel lobby to check on accomodations if you are traveling by yourself.
Besides all good adventure stories are about getting home, just think 'The Wizard of Oz', or 'ET', or Robert Scott returning from the South Pole. Of course he didn't make it, but the others did.
Another point to consider, east or west bound, is bicycle transportation on Amtrak is as simple as renting a large box, for about $5 at the time, and paying a service charge of $7. You just remove the pedals, turning the handle bars 90 deg, roll the bike into the box, and tape the box shut. The bike box is stored upright and nothing is piled on it to cause damage. Your panniers and gear is considered regular baggage and/or carry-on baggage.
Click here or above on the map to continue.